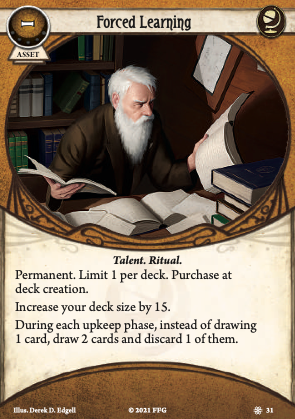 This permanent was really fun with Mandy Thompson (30 cards). Every line on the permanent worked to her advantage.
+15 deck size? Great, I can fit in three sets of Myriad cards, Segment of Onyx, A Glimmer of Hope and Astounding Revelation while not feeling like I have a bloated deck. 6 spots leftover for me to fill in with Seeker allies (tons of great options).
Draw 2 cards per upkeep? Great. Procs my Ancient Stones twice as fast with no action required.
Discard 1 of them? Great. Lets me discard allies, survivor cards, item cards.
What to take with Survivor subclass as Mandy? Winging It, Impromptu Barrier, A Glimmer of Hope, A Chance Encounter. Three of these are playable from the Discard Pile, while A Chance Encounter lets you play discarded allies.
Don't forget to take Calling in Favors to be able to put 2 allies into play using Mandy's ability. You can even use it on the "A Chance Encounter" target.
For upgrades, take Charisma/Miskatonic Archaeology Funding to facilitate more allies. Ancient Stone to utilise the Draw 2 effect. Versatile + Scavenging to recur any items used up or discarded during upkeep. Protecting the Anirniq works wonders with Ancient Stone/A Chance Encounter.
Conclusion: Don't take this if you were hoping to be flexible during upkeep and "choose" which cards to keep based on the situation. Don't take this if you care about your opening hand either.
Instead, take it if you're like me and actively WANT half your deck discarded and to proc Ancient Stone. The only things I didn't want to discard were Talents, Skill Cards and the cards that let me do ally shenanigans. Everything else was fair game.
Oh, and who cares if you drew Shocking Discovery during your upkeep phase? You lose the other card which you can probably get back and it's considered a dead draw which doesn't matter for a Big Hand Mandy deck. As Mandy, I almost never draw Shocking Discovery because she has plenty of ways to proc it on her own terms via Search.
I played this without Ancient Stone and it was still incredible. Used Versatilex2 to get Quick Thinking —
Maseiken · 1