調查員
法師
__Willpower: 5. __Intellect: 2. __Combat: 2. __Agility: 3.
__Health: 6. __Sanity: 8.
在艾格尼絲·貝克受到至少1點恐懼後:對你所在地點一名敵人造成1點傷害。(每階段限制1次。)
效果:艾格尼絲·貝克上每有一點恐懼,+1。
"我能記得我的前世,充滿了巫術和征服的人生。"
Magali Villeneuve
基礎遊戲 #4.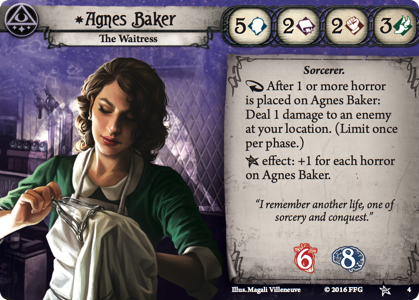 調查員
卡牌張數:30。
牌組構建選項:潛修者()等級0-5,求生者()等級0-2,中立卡牌等級0-5。
牌組構建需求(不計入卡牌張數):希波利爾傳家寶、黑暗回憶、1張隨機基礎弱點。
艾格尼絲·貝克或許只是個默默無名的侍應,但是在前世,在那個超乎現世想像的驚奇時代,她是一個無比強力的女巫。這一切都要從一把鑰匙說起,她在自己的小閣樓裡,家傳的一個首飾盒中找到了它。當她拿起鑰匙,記憶突然如同洪水般湧入,伴隨著一個詞:"希波利爾"。他越是沈浸在前世的畫面與記憶之中,他就感到法力越發強悍……但是恐懼也愈發地強烈。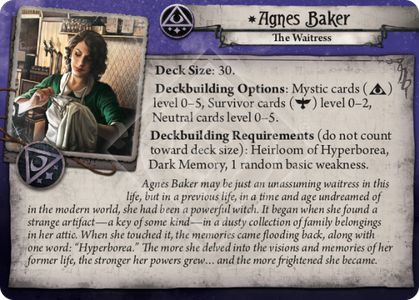 You cannot use Agnes' ability if you assign horror to an asset.
Last updated
Can I play with Agnes?
Give me the sense to wonder
To wonder if she's free
Give me a sense of wonder
If they've picked her before me
Give me the strength to hold my hand out
And pick that youthful face
Don't need xp to unlock this deck
Gonna play through it all
Break me into that bad place
[Chorus]
Can I play with Agnes?
She'd look so cool with a crystal ball
Can I play with Agnes?
Her evasion's rather small
Can I play with Agnes?
The players looked at me and laughed at me (ha ha) they said:
Can I play with Agnes?
Use blinding light, its fine, you`ll seeee
Woah, they said use blinding light you`ll see
I stared hard at the encounters
I said I'll Scry, I'll see whats below
We can prepare for this mischief
For two cards and the next
Oh then I fixed them with a freezing glance
You could see the fear in their eyes
I said you wanna know the truth son?
Well I'll show you the truth
Its an agility test needing five or higher
[Chorus]
Listen to me, said the players
[Chorus]
Can I play with Agnes?
Jesus, that is beautiful! —
lukas · 14
Can I hit the like button multiple times please? —
m3Ss1 · 1
Awesome Iron Maiden reference! —
Felagund · 515
Great. Now I gotta record a cover song and blast it everytime somebody pulls out an Agnes deck. —
H0tl1ne · 76
Thank you so much for this work of art! Up the Irons. —
humbas · 14
Review of parallel Agnes. I played her for 3 scenarios as cluer (our campaign isn't finished) and found her new ability better than i had expected.
Parallel Agnes can be found here. I created alternate weaknesses for all parallel investigator, based on the boss of each adventure which can be found here. Except the weakness for daisy, i haven't playtested them yet so changes are possible.
Stats
Base stats remain the same, but her HP and Sanity have been swapped. High means she excels when using spells and resisting many treacheries but her low other stats mean she can't do anything without spells.
Higher HP allows for more uses of her new ability. When the game was new, needed sanity to endure side effects of Shrivelling. With the addition of new asset spells like Azure Flame or Eye of Chaos that's not necessary anymore.
Ability
Her new abilites read:
As an additional cost to play a Spell event, you may take 1 damage. If you do, reduce the cost to play that event by 2, and you may shuffle that event back into your deck instead of discarding it.
effect: +1. You may heal 1 damage.
Like her old ability, it is both a blessing and curse because liberal use can kill you (enemy attacks, trecheries, location effects, Azure Flame,...). Her new ability is more flexible and gets better with new spell events. cards tend to be expansive and with limited charges so the first part of her ability really helps going all out on events. Shuffling them back into your deck is also a huge boon, as you might draw it again (i think i used read the signs 4-6 times in one scenario). Though it makes drawing other cards less likely.
As of writing this review, i'm not sure you can use her ability on spells that cost 0 ressources to shuffle them back into your deck. I'm assuming yes.
New is a straight heal, keeping her alive and allowing for more uses of her first ability. If you make liberal use of her first ability like i did, you will need this. Also note that it heals you if the test fails (so combos nice with fail to win stuff).
Deck Building
Similar to parallel Skids. When upgrading spells (not limited to events), you may keep the lower level version in your deck, which does not count against your deck size. For 2 XP each, you can have 20 Ward of Protection so you never need to worry about treacheries anymore (but the horror...).
Spells events of note LV 0:
Agnes looses access to survivor lv 0-2 but gains Spells lv 0-3 and occult 0-3. Note that these spells are not limited to events.
This includes the following cards, at the time of writing of this review:
In short, her new deckbuilding offers access to more combat spells and blurse tech. However lv 0-2 gives her access to cheap soaks and fail to win combo, which means card draw. Some of note:
Combos
I saw someone in real-time use Hypnotic Gaze on a boss enemy and followed up with 4 Eldritch Inspirations to insta-kill it. —
toastsushi · 62
Yowch. I think parallel Agnes is good, but that sounds broken. —
SGPrometheus · 640
It needs XP and right cards to pull off. Also when using gaze, you need to pull one of the right tokens (or more cards to improve your chances). It also depends on the boss's damage/ horror (on upgarded gaze). It's definately a strong combo, but i don't think it's OP. In comparison, Shotgun can also deal 18 damage in 1 shot wtih 2x upgraded vicious blow and double or nothing. Any rogue with timeworn brand, leo and haste can attack for 10 damage with 5 actions. —
Django · 4192
All the examples you have described all require XP as well as the right cards. Also I don't think it's worth considering a card like donut since that pretty much skews all other forms of what constitutes a boss-killer. —
toastsushi · 62
Yeah, I'm not sure how many cards it would take for 10 actionless,testless damage to be considered broken. One definitely, but five is a lot of cards. I agree that we can dismiss DoN on the grounds that it's legitimately broken (citation: taboo list), and the rogue example you give takes 3 cards, 7xp, 13 resources, and 5 actions, all of which require tests. Agnes' combo takes 5 cards, 2xp, 3 resources (using her ability to cast Hypnotic Gaze), 1 damage to you, and no actions at all or tests. The hilarious part is, if you don't draw a spooky token on the evade, you just shuffle it back into your library and try again later. —
SGPrometheus · 640
It actually costs you 3 xp each for the Ward of Protections. 2xp to upgrade from 0 to 2 and make the level 0 copies not count against card limits and another 1 to replace the level 2 WoP with fresh level 0 versions. Level 0 cards still cost 1xp to add to your deck unless you are filling a gap left behind by Exiled or otherwise permanently removed cards. —
Death by Chocolate · 1170
Could you not just go Eldritch Inspiration (0) -> Eldritch Inspiration (1) -> WoP (0) for each WoP you need, for 2xp each? —
suika · 8628
Since the reviews of this character were close to the game's release, they don't mention the absolute perfect partner for Agnes: Carolyn Fern. In a duo that's closer to a psych study than an adventuring party, the waitress can take horror four times a turn and the therapist can keep up and grow rich. (Every phase? Yes, because of the quick trigger of forbidden knowledge, and the fact you can have two. As well as pain pills. Of course, you won't have to do this every turn unless you have a truly wretched encounter deck, bonded enemies, and weaknesses that spawn foes.)
If you're going this route, ancient stones and solemn vows, as well as the big man on campus, allow a tremendous amount of healing. The new book of psalms means you can even fill the bag with beneficial tokens while getting paid.
It's a breath of fresh air if you've ever played Agnes before, being torn between the horror you get from the encounter deck, shriveling, and enemies, and your natural urge to use your power. Send your foes packing as you spin into your delusions of being an ancient witch from an era undreamed of.
(For a really nifty combo, you can use dark horse and the resources Carolyn gives you to play costly cards on your turn, and get plus one versus anything in the encounter deck. It also gives you an outside chance of passing agility checks, which most campaigns have a few of.)
The duo can easily become a trio or quartet, but fill your ranks with saner investigators. You're going to need a lot of personalized attention, and remember a therapist's hour only lasts 50 minutes.
I'm running these two right now! My Carolyn deck took a couple scenarios to really get going but has ramped up significantly after stick to the plan and some xp healing items like Ancient Stone. —
iguanaDitty · 4
Dont forget you can get two Ancient Stones for the price of 1 on Carolyn with Shrewd Analysis, since she only has one legal upgrade target! —
Death by Chocolate · 1170
Just finished the Path to Carcosa campaign. Got a cheeky idea for next run ... play Agnes Baker and "accidentally" speak His name aloud once a phase. Get horror each time → deal damage to an enemy at your location. :D Need to pack some horror heal/soak though :))
and carolyn can heal all horror —
elkeinkrad · 317
It's also fun if you are running key of us to play it down and then say his name thrice to summon great power —
NarkasisBroon · 9
Yeah, I finally got to that resolution in Carcosa as well. (Was always defeated in the Asylum on my previouse runs.) I thought as well, this would be great for Agnes. Calvin could also abuse it. —
Susumu · 217
Nothing is quite as fun as swinging a 20 combat Timeworn Brand as Calvin —
StyxTBeuford · 12725
We did exactly this on our blind run of Carcosa. We didn't know about the rule until we got there but... Jim had just met an unexpectedly final end in the preceding mission and our team suddenly had an opening for a new Mystic, so... Hey Agnes, wanna come to France with us? We referred to this strategy as 'Candlejacking.' —
Death by Chocolate · 1170