Something terrible has invaded the home of Josef Meiger. In the moments that follow, you scramble to survive.
Forced - When an investigator is eliminated: Place each of that investigator's clues on this act instead of his or her location.
Objective - Discover as many clues as you can before your inevitable demise.
Stanislav Dikolenko
萬象無終 #45. Disappearance at the Twilight Estate #3.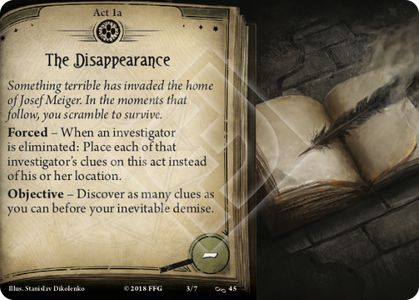 場景
SHADOWS TWIST IN AETHER'S COIL
THE GATE HAS LED US ALL ASTRAY
DESPAIR LOATHES A BEATING HEART
DEAD OR LIVING, WE CANNOT SAY
BLACKEST THRONE IN THE VOID OF SPACE
SHE WHO SIGNED KNOWS THE WAY
IT SMELLS YOUR SOUL, IT KNOWS YOUR FATE
ITS GLEAMING EYES HOLD US IN SWAY.
Record in your Campaign Log you are being hunted.
Flip back to Act 1a.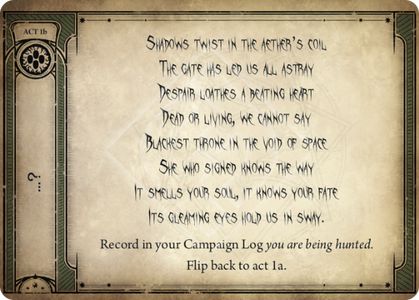 No review yet for this card.