地點
遠處看得不算真切,於是你湊近去看,原來這兒大部分的房子已經被燒毀,只剩下廢墟……
H. P. 洛夫克拉夫特,《敦威治恐怖事件》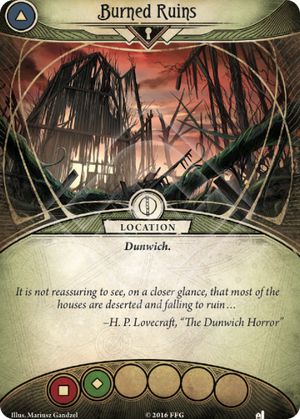 地點
敦威治
__Shroud: 2. __Clues: 3.
強制 - 在你調查該地點時進行技能檢定失敗後:將火災廢墟上1個線索標記翻面為毀滅標記。
如果該地點沒有線索:抽取該地點下的遭遇卡(團隊每場遊戲限制1次)。
Mariusz Gandzel
血色祭壇 #205. 血色祭壇 #11.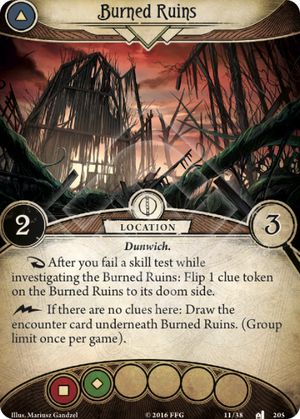 [Errata from FAQ v1.1]: This card's text should read: Forced instead of .
Last updated
It's worth noting that although the additional doom isn't great, it does result in clues being permanently 'destroyed', and so Act 1b will result in fewer clues being put on The Hidden Chamber than normal. If health/sanity pressure are more threatening than doom pressure (or you can stack up a bunch of doom during the 'witching hour' before an agenda advances), this can be quite a boon in saving actions for R2/R3. (The fact that you 'fail' the investigation doesn't matter, since the goal is simply to remove clues, not collect them.)
In fact, there's even some benefit in Blood on the Altar to faster agenda advancement -- firstly, more sacrifices means an easier time with Undimensioned and Unseen (and thus Where Doom Awaits), which may be worth more than a story asset; secondly, if none of your unique allies have been Kidnapped! yet, then prematurely advancing the agenda can ensure that you have enough turns to beat the scenario in between one getting Kidnapped and them being sacrificed.